Brokereo is a forex & CFD broker that has gained tremendous popularity thanks to the rising interest of traders in derivative products in recent years. While the broker claims to be the best in the forex industry, its customer reviews don't seem to support its superlative claims. However, it's not the only parameter to judge any forex broker. So, we tested this broker from every aspect and come up with a detailed Brokereo Review.
In the review, we took Brokereo into consideration, assessing it on over 200 variables and comparing it on 7 main selection criteria: quality of trading platforms and analysis tools, fees and commissions, professionalism of customer service, quality of training, research, and global product offer.
The Brokereo reviews provided here are the results of more than 2-3 days of testing, with the aim of supporting traders by providing all the information they need to choose before getting started on the platform.
What Is Brokereo?
Brokereo is an online CFD trading platform offering 300+ CFDs on assets and complex analytical instruments. The broker is regulated by several financial regulators and offers a very competitive multi-asset platform, ideal for both the novice trader and the experienced trader.
The www.brokereo. com domain is owned and operated by NEO Premium Investments (NPI) LTD, a Cyprus-based investment firm with a registered office at Spyrou Kyprianou 4, Office 301, Mesa Geitonia, 4001, Limassol, Cyprus.
The brokerage platform makes itself stand out due to a series of features, which include 300+ underlying assets available for CFD trading, 20+ analytical tools, cutting-edge trading platforms and 24×5 professional customer support.
Is Brokereo Scam? 
Brokereo is a legit forex & CFD broker, holding a regulatory license from the tier-1 financial regulator – Cyprus Securities and Exchange Commission (CySEC), with license number 189/13. 
The broker operates according to the European Union Directive 2014/65/EU on Markets in Financial Instruments ( MiFID), an organization that works with the objective of creating an integrated financial market that protects investors' safety and safeguards the efficiency and integrity of the market. 
With all the advocacies mentioned above, the Brokereo can be termed as a legit broker; hence any possibility of it being a scam rules out automatically. 
Brokereo Review: Pros & Cons
Pros:
Cutting-edge trading platform 

Fast execution 

Commission-free trading 

24/5 customer support 

Analytical tools 

 CFD trading on 300+ assets
Offers Margin Trading
Access to Free Demo Account
Low Trading fee
Offers deposits through e-wallets and wire transfer
Cons:
No US traders are allowed to trade 

High swap fees

Doesn't offer Negative Balance Protection
What Are The Trading Accounts Offered By Brokereo? 
The account types offered by the broker are unique and aid traders with an excellent market experience. Traders always want to have individuality in their trading, and this platform fulfills their needs by offering three retail investor accounts: Silver, Gold, and Platinum accounts, and a free demo account.
The accounts are designed keeping all sorts of traders in mind. Here's a list of three primary trading accounts offered by the broker: 
Silver Account
The account type is best suited for new traders who wish to learn and start the trade with different instruments. It is one of the primary trading accounts offered by the brokerage platform.
The account provides an environment where novice traders can enjoy various features. In addition, the platform offers some other features to its retail clients, including: 
Maximum Forex leverage of 1:30 

Minimum spreads starting from 1.0

300 plus CFD asset

No swap discount 

24/5 customer service 

News alerts and updates 

Hedging 

Fifth decimal

Maximum leverage for a professional account up to 1:200

Base currencies include USD, EUR, GBP, etc 

Commission-free trading 

Access to a wide range of assets
The minimum Initial Deposit is $250
Gold Account 
The account is specially designed for traders who understand the Forex market and have good trading skills. It is to help these traders polish their skills and successfully trade online in the Forex markets.
It has many attractive features to make traders reach newer heights of victory. It has the following features for retail clients: 
Leverage up to 1:30 for retailers

Minimum spreads of 0.4

300+ CFD asset 

Swap discount of 25% 

Hedging 

News alerts 

Fifth decimal 

A dedicated account manager 

Base currencies include USD, EUR, GBP, etc

Zero commission 

Leverage up to 1:200 for Professional account holders 

Base currencies 

Access to a wide range of assets
The minimum deposit is $250
Platinum Account 
Platinum is one of the three retail investor accounts, the best fit for professional and perfect traders of the Forex market. An advanced account for futuristic traders. They can enjoy the trade with all the facilities and amazing services offered by the broker: 
Leverage up to 1:30 for retail traders 

Minimum spreads of 0.3 

300+ CFD trading asset

Swap discount of 50% 

Dedicated account manager 

Base currencies include USD, EUR, GBP, etc 

Hedging 

Fifth decimal 

News alerts

Base currencies 

24/5 customer service

Zero commission charge 

Leverage upto1:200 for professional clients 

Access to a wide range of assets
The minimum deposit is $250
Professional Account
The professional account offered by the platform is claimed to be the most advanced. It offers some amazing features to ease the trade and experience a smooth execution of orders.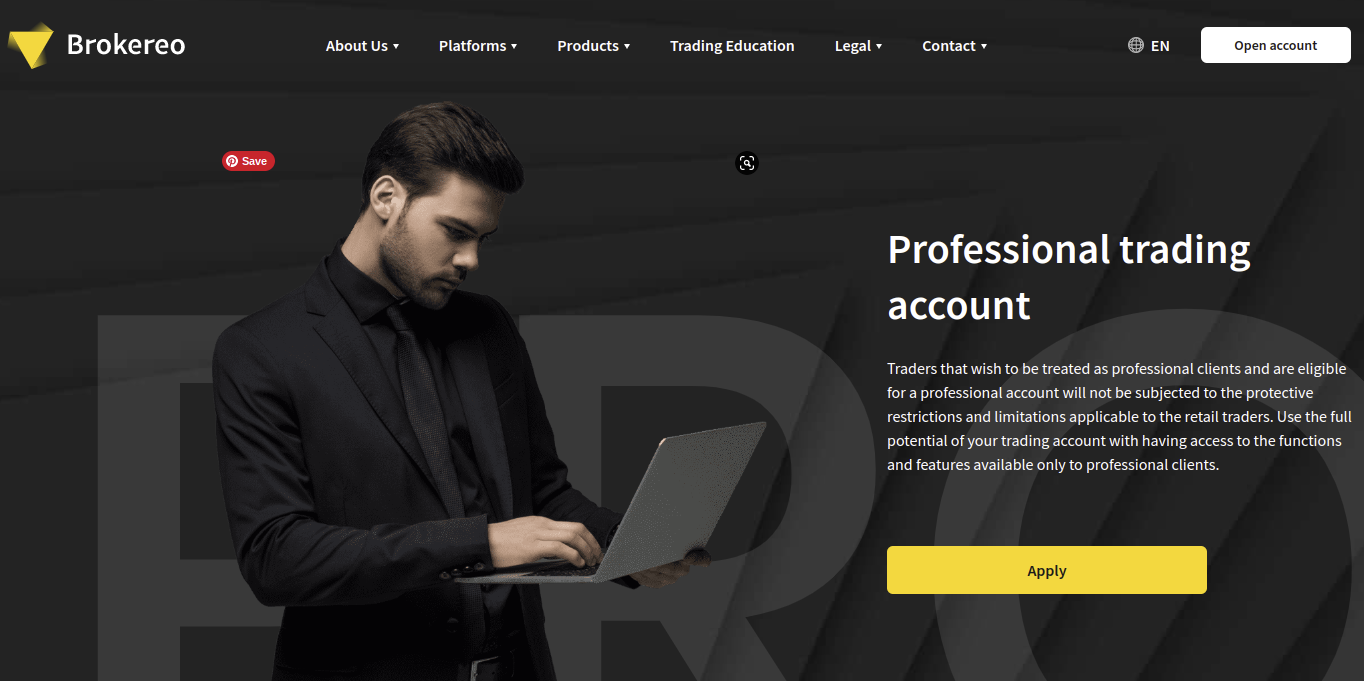 The only odd in this account type is that it doesn't offer negative balance protection. It has the following offers for professional traders: 
Unhindered freedom, traders have a facility of a high leverage ratio of 1:500 and a margin of 15%, thus having a high position in the market with less investment. Traders can even try new market strategies with high leverage. 

Traders can even have full-speed order execution and deposit and withdrawal quickly—trading per market volatility. 

A dedicated account manager guide in solving questions and queries of the trader. They are personal managers and would be available anytime to help professional traders. Thus, saving time and trading online with the momentum of the market. 

100 GB/S bandwidth for best execution 

Tight spreads 

Marginal call level of 100%

Stop-out at 15%

Exclusive pro services 
Islamic Account 
This account facility is for traders who follow the sharia laws. Muslims who prefer such accounts can choose the option in the trading accounts and trade with the rules. 
How to Open an Account On Brokereo?
The account opening on the platform is simple and less time-taking. Here's a complete account opening process of Brokereo:
Below listed are the steps to open retail investor accounts: 
The first step for creating an account with Brokereo is to fill out the basic information such as first name, last name, email address, country code, and phone number. After filling in all these details, clients must set a password to have a secure trading account.

A declaration is shown below the form page stating that the client is above 18 years old and has understood all the terms and conditions of using the platform. Traders should tick mark that and one more declaration below with product updates.

Now, click on the 'Create an Account button.

The second step is information; traders are asked for personal data, such as identity proofs etc., for a valid trading account.

The third step is the questionnaire, where clients are asked about their past trading history. Based on this, the brokerage platform can suggest trading tips to clients.

The fourth step involves documentation; the required documents are to be uploaded for verification.

Upon verification, sign in back to your account using the Brokereo login credentials.

 

The last step of the process is a deposit; the clients are required to deposit initial funds to start trading with the broker. 
Brokereo Review: Available Trading Platform
The brokerage offers clients the opportunity to trade with globally recognized trading online platforms and tools. The traders can use MetaTrader4, WebTrader, and Mobile applications to enhance their trading experience.
Here we will discuss the trading platforms and know what they have to offer the clients. 
Brokereo, on its official website, has referred to MT4 as the giant trading technology. The software is truly giant, not in its shape but with the data and facilities—advanced desktop software with high-speed access to the market.
With its consistent trading performance 24/7 and technical support, traders can forecast the Forex market instruments. The platform is available for download on the website.
This trading platform help traders in executing instant orders in real-time, stop loss/take profits, read charts and patterns, analyze the market, etc. With so many tools, traders can never go wrong with the predictions until a sudden fluctuation occurs. 
In addition, the platform uses advanced tools to help you in executing numerous trades easily and is popular for its consistent performance.
Functions of MT4
Technical and fundamental analysis tools

Transparency of trade 

Multifunctionality 

Quick performance 

One-click trade 

Fast execution 

Time frames 

Indicators 

Experts advisors 
WebTrader:
WebTrader is one of the leading standard web trading online platforms. It is handy and accessible from anywhere and any time of the day. With the help of a WebTrader, clients can switch between accounts and manage the trade.
Other than this, traders can control trade and access the market easily with just a click. 
Webtrader has the following features: 
User-friendly interface 

Analysis with visualization of market 

Easy market access

One tap control 

Optimized search 
Brokereo App
The Brokereo app offers a wide range of features, such as 24/7 availability, free research tools, and many others. Traders can use the mobile application with android and iOS devices anytime.
The platform offers cutting-edge technology with the facility to track the market changes such as rapid price hikes, trades, and instruments.
It makes trade more convenient and exciting. It provides traders with all the updates with no chance of missing any news. It has the following functions: 
100% functional 

One-click trade 

Free download 

Trading tools 

Handy technology 

Accessible

Comfortable to use  
What Are The Major Financial Instruments Available For Trade?
Before you start trading, here's some important information to remember – trading CFDs involves a high risk of losing money rapidly.
So, before you start trading, let's take a look at the financial instruments available on the platform: 
Cryptocurrencies 

Commodities such as raw materials, precious metals, etc. 

Shares 

Metals 

Forex  

Future 
Brokereo Commission, Fees, and Spreads
Brokereo is a new-generation broker with all the required components, low-cost trading, and no commission charges. The broker offers variable spread charges for the different types of accounts used by clients. For example, the Silver Account has a spread starting from 1:0, the Gold account has a minimum spread of 0.4, and the Platinum Account has a spread starting from 0.3.
Besides, the Professional Account has tight spreads and low trading fees. However, it may differ based on the base currency. 
Maximum Leverage Available
The leverage ratio offered by the broker also varies as per the account chosen by the client. Below listed are the account names with the leverage ratio they offer: 
Silver account: leverage up to 1:30 

Gold account: leverage up to 1:30 

Platinum account: leverage upto 1:30 

For professional accounts, the broker offers leverage up to 1:200 of all account types
Brokereo Review: Deposit and Withdrawal Process 
Brokereo offers various options for traders to deposit and withdraw funds. For the secure payment process, traders can use e-wallets, bank wire transfers, and debit and credit cards.
The deposition of funds is easy and is made within minutes. In contrast, the withdrawal methods may take 3 to 5 business days. This is because the withdrawal requires time to verify the client and the security purpose of the trade. In addition, the broker doesn't charge any withdrawal fees.
You can use the following payment methods for depositing funds: 
Mastercard 

Maestro 

Skrill

NETELLER

VISA 

V PAY 

Bank Transfers
Wire transfer
Debit / Credit Card
Brokereo Review: Educational Resources and Research Tools
The broker's domain – www.brokereo com offers facilities of both educational resources and research tools to enhance the knowledge of the traders. They can access the educational and research material available on the website.
In addition, Brokereo provides videos, journals, trading articles, courses, webinars, the latest news, e-books, and courses for education. For research, the platform offers an economic calendar, reports, technical analysis tools, and some other user-friendly tools. 
This facility would guide traders, keep their basic concepts of trading clear, and help them discover new trading opportunities. In addition, the platform provides quality services to clients for secure and transparent trade. 
A Look At Brokereo Customer Service
Being a professional broker, Brokereo offers the best and most professional customer assistance. It is available for traders in the Forex market timings. The customer service staff is available in multiple languages, including English, Portuguese and Italian. 
The trader can contact the customer support staff whenever they need help or need answers to queries. It offers a reliable support system for traders, guiding both professionals and novices through live chat and other available channels. 
Here are the details to connect with the team: 
Brokereo contact number: +35780092710

Live Chat 

Email Address: [email protected] 

General Query Form
Conclusion:
After examining this detailed Brokereo review, we can term this broker to be customer-centric that believes in delivering high-tech quality services that protect the rights of its users. Also, the broker ensures you get the best environment for trading and investing with optimum security.
However, the broker falls short in terms of offering round-the-clock customer support and high leverage. And Brokereo reviews from its existing clients are a matter of concern too. Despite this, Brokereo is a highly recommended brokerage platform that is absolutely safe to trade with.